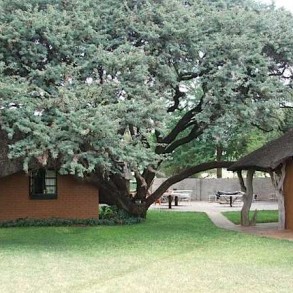 The Limpopo river forms the border between South Africa and Botswana. The area is known in South Africa for the abundance of game and the outstanding trophies hunted here. Selous, the famous hunter, spent his first safaris in this area and described it later as one of the best hunting areas he ever hunted.
Special Features
Hectares within game fencing: 4700
% Savanna (Grasvlakte): 40
% Generally level or undulating land surface: 60
River: Yes
Riverine (Beboste Oewer): Yes
Gorge/s (Kloof): No
Natural Lakes (Waterpan): No
Dam: Yes
Slaughtering Facilities: Yes
Cold Room: Yes
Eskom Power: Yes
Pricing: 2017
Species Name:
Price Male
Price Female
 
Eland
R  19 600.00
R   10 080.00
Kudu
R  16 800.00
R   5 544.0
Waterbuck
R  13 450.00
R   3 400.00
Impala
R   2 250.00
R   1 680.00
Warthog
R     1 120.00
Zebra
R   7 300.00
Gemsbok
R   7 280.00
R   7 280.00
Blue Wildebeest
R   5 320.00
R   4 200.00
Red Hartebeest
R   7 280.00
Blesbok
R   3 360.00
R   1 960.00
Includes VAT
Accommodation:
Accommodation Description: Internal: House sleeps 10 with a shower and toilet with basin plus an ablution block with a shower, basin and toilet. External: Boma with fully equipped kitchen and dining room
Pricing Hunters: R1000.00
Pricing Non Hunters: R1000.00
Hunting Months: All Year
Accommodation Caterd:
R2 000.00 pppd. Includes Meals, Soft drinks and Beer.
Vehicle Hire : R 1 680.00 for the duration of the hunt.
Included in day rates are:
Professional hunters, guides, trackers and skinners.
Non Refundable Deposit: R8400
Directions to the ranch from the nearest town
Directions:
From Thabazimbi follow the R510 for about 45km, turn left at Makoppa sign, continue for about 18km, turn right at Rooibokkraal sign, after +/- 30km, turn right and follow the road to the farm.