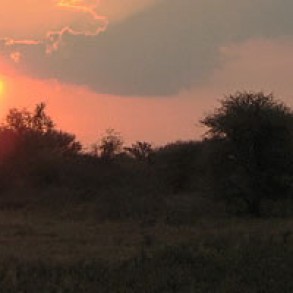 This ranch is approx. 14km from Rooibokkraal and offers exceptional quality trophy animals, including Sable Antelope, Kudu and Gemsbok. Buffalo and Nyala are also available.
Special Features
Hectares within game fencing: 4700
% Savanna (Grasvlakte): 40
% Generally level or undulating land surface: 60
River: Yes
Riverine (Beboste Oewer): Yes
Gorge/s (Kloof): No
Natural Lakes (Waterpan): No
Dam: Yes
Slaughtering Facilities: Yes
Cold Room: Yes
Eskom Power: Yes
Pricing:
Species Name:
Price Male
Price Female
Trophies
Sable
P.O.R
P.O.R
Buffalo
P.O.R
P.O.R
Eland
R 17 000.00
R   9 000.00
Kudu
R 17 000.00
R   5 100.00
Waterbuck
R 13 500.00
R   3 400.00
Nyala
P.O.R
P.O.R
Impala
R   2 250.00
R   1 700.00
Blesbok
R   2 800.00
R   1 700.00
Warthog
R     950.00
Zebra
R   7 300.00
Gemsbok
R   6 750.00
R   6 750.00
Blue Wildebeest
R   5 050.00
R   3 950.00
Red Hartebeest
R   6 750.00
Including VAT
Accommodation:
Accommodation Description: Internal: House sleeps 10 with a shower and toilet with basin plus an ablution block with a shower, basin and toilet. External: Boma with fully equipped kitchen and dining room
Pricing Hunters: R450.00
Pricing Non Hunters: R350.00
Hunting Months: All Year
Directions to the ranch from the nearest town
Directions:
From Thabazimbi follow the R510 for about 45km, turn left at Makoppa sign, continue for about 18km, turn right at Rooibokkraal sign, after +/- 30km you have arrived.