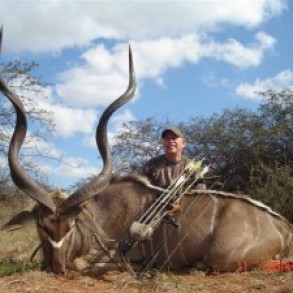 Experience the North West Province, situated close to Gauteng this beautiful Game Farm offers a large variety of game and boast some fine specimens to ensure that both biltong and trophy hunters are completely satisfied.
Special Features
Hectares within game fencing: 720
Dam: Yes
Slaughtering Facilities: Yes
Cold Room: Yes
Pricing:
Species Name:
Price Male
Price Female
Trophies
Blesbok
R1925.00
R1073.00
White Blesbok
R3300.00
R3300.00
Blue Wildebeest
R3300.00
R2420.00
R4345.00
Monkey
R220.00
R220.00
Eland
R13200.00
R9900.00
R16500.00
Kudu
R9900.00
R2750.00
R17600.00
Njala
R13200.00
R7700.00
Impala
R1045.00
R825.00
R1650.00
Zebra
R7700.00
R7700.00
Warthog
R1320.00
R1045.00
Ostrich
R1650.00
R935.00
Waterbuck
R11000.00
Sable
P.O.R
P.O.R
Crocodile
P.O.R
P.O.R
Excludes Vat
Accommodation:
Accommodation Description: Self catering chalets
Pricing Hunters: R385.00
Pricing Non Hunters: R385.00
Hunting Months: All Year
Directions to the ranch from the nearest town
Directions:
Travel on R49 from Zeerust towards Gaborone for 60km until you reach Nietverdiend. Turn left at Swartkopfontein sign at Nietverdiend. Travel along the dirt road for 2.5km and turn right at Witkleigat board. Travel for 6km and find the entrance to the farm
Other Comments
Also Available: Tigerfish and Bream Fishing in Botswana. Special Packages for Bowhunting.