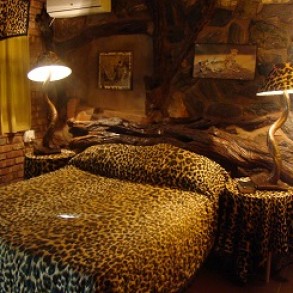 The ranch is situated in the picturesque and tranquil bushveld of the Northern Province.
The ranch consists of 2 000ha with mopanie, rooibos, matoppie, boaboab and various other indigenous trees. The ranch is situated approximately 500 km from Pretoria and 170 km form Pietersburg, North of the Soutpansberg Range, and lies between Waterpoort and Alldays.
The climate during the hunting season is moderate. It varies from moderately cool in the mornings, to pleasantly cool in the evenings. During daytime the temperatures are mild and pleasantly warm. During summer, daytime temperatures can become very warm, while the evenings are normally pleasant.
Special Features
Hectares within game fencing: 2000
Dam: Yes
Slaughtering Facilities: Yes
Cold Room: Yes
Eskom Power: Yes
Pricing: 2015
Species Name:
Price Male
Price Female
Trophies
Monkey
R      570.00
R      570.00
R      570.00
Blue Wildebeest
R   3 980.00
R   3 980.00
R   5 680.00
Baboon
R   1 140.00
R   1 140.00
R   1 140.00
Bushpig
R   2 270.00
R   2 270.00
R   2 270.00
Duiker
R      900.00
R      900.00
R   1 140.00
Eland
R  10 800.00
R  10 800.00
R 17 000.00
Gemsbok
R   7 950.00
R   7 950.00
R 18 180.00
Giraffe
R 15 900.00
R 15 900.00
R 17 020.00
Kudu
R  9 090.00
R   3 980.00
R 22 730.00
Impala
R   1 700.00
R   1 360.00
R   2 270.00
Steenbok
R      900.00
R      900.00
R   1 140.00
Warthog
R      795.00
R      795.00
R   1 700.00
Waterbuck
R   5 680.00
R   3 400.00
R 11 360.00
Zebra
R   6 820.00
R   6 820.00
R  7 950.00
Excludes VAT
Accommodation:
Accommodation Description: Luxury air conditioned rooms in lodge
Pricing Hunters: R455.00
Pricing Non Hunters – Men: R 455.00
Pricing Non Hunters – Woman: R230.00
Chidren Under 12: R120.00
Hunting Months: April-August
Other Pricing:
Description:
Pricing:
Meat Processing (Excludes spices, casings and fat)
R90 small buck, R205 big buck
Other Comments
Minimum 6 Hunters